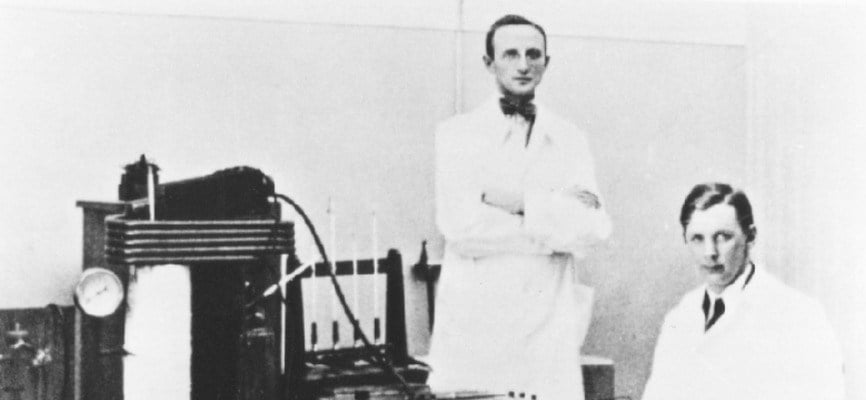 How it all started
Our history. Our journey.
Baltzar von Platen and Carl Munters are two young Swedish engineering students with a crazy idea. They are convinced the best way to create a cooling effect is to use heat. They believe so wholeheartedly in the idea that they regularly cut class to work on it. Finally, after many long days and nights, they manage to design a cooling cabinet with no compressor, no moving parts – and no ice. Simply by applying heat to a boiler, a cooling agent circulates in the system, absorbing the heat and thereby creating a cooling effect. Their cabinet turns out to be the world's first refrigerator, and one of the most important inventions of the century.
1920 - 1950, Even Einstein thought we were cool
The cooling cabinet that Baltzar von Platen and Carl Munters invented is granted a patent. Even the great Albert Einstein is impressed, calling their invention a stroke of genius. In the same year, Arctic, an appropriately named Swedish company, acquires the manufacturing rights. It doesn't take long for Electrolux, a growing appliance company, to see the potential. In 1925, the company acquires Arctic. In the years following World War II, refrigerators find their way into every middle-class home. Sales are in the millions of units.
1922
Carl Munters and Baltzar von Platen invent the absorption technology.
1923
The cooling cabinet is granted a patent. The Swedish company Arctic acquires the manufacturing rights.
1925
The refrigerator is displayed at a Stockholm exhibition. One of the impressed visitors is Axel Wenner-Gren, the "vacuum cleaner king" and founder of Swedish company Electrolux.
1925
Electrolux acquires Arctic and initiates mass production of absorption refrigerators.
1950 - 1970, The birth of Dometic
In the 1950s, building on the success of the refrigerator and vacuum cleaner, Electrolux starts to make inroads into the leisure market. Especially in America, which is riding a massive post-war boom. To strengthen its presence in a growing segment, the company acquires groundbreaking innovations and strong brands whenever and wherever it makes good business sense. By the end of the 1960's, Electrolux gives its leisure appliances division a name: Dometic.
In the 1950s, the more easily manufactured compression technology is increasingly used for home refrigerators. But the completely silent absorption technology remains the best choice for refrigerators in for example RVs and boats. 
1951
Electrolux starts manufacturing washing machines.
1956
Development and production of absorption refrigerators for RVs.
1959
Electrolux starts manufacturing dishwashers.
1968
Electrolux establishes Dometic Corporation of the US.
1970 - 2000, Expanding the leisure product line
It becomes increasingly clear that ever more people across the world want to live mobile. For some, like professional truck drivers, it's business. For the rest, it's leisure. But they all share essential needs – like cooking, taking care of personal hygiene and maintaining a pleasant temperature. Electrolux continues the expansion into new markets and technologies. A number of company acquisitions are made, and many of Dometics present product segments are added.
1973
Electrolux acquires Siegas Metallwarenfabrik, Germany
Introduction of absorption-based hotel miniBars; creating leading hotel room refrigerator manufacturer.
1985
Electrolux acquires Duo-Therm Corporation - RV air conditioners, USA
1986
Electrolux acquires Origoverken, Cookers and Ovens for pleasure craft, Sweden
1988
Electrolux acquires A&E Systems - RV awnings and accessories, USA
1997
Electrolux makes strategic decision to focus on its core retail business
2000
Electrolux acquires Seitz - RV windows, Germany
2001 - Today, Becoming a global lifestyle brand
The new century marked the start of an independent Dometic. In 2001, following a strategic decision to focus on its core retail business, Electrolux divests its interests in the leisure market to EQT, a private equity firm. Dometic has to stand on its own feet. Which it does by staying true to its roots and relentlessly developing smart, often award-winning, solutions. More important acquisitions are made, further broadening the product range. Today, Dometic is not only a provider of solutions for mobile living. The company has become synonymous with an outdoor lifestyle which spans from your home patio and garden, to the adventurous wilderness. Dometic also provides products and solutions for professional users, for example restaurants and health care.
2001
EQT III Ltd. acquires Electrolux assets and the Dometic operating and legal structure is created
2002
Dometic acquires SeaLand - Pleasure Boat sanitation systems, USA
2003
Dometic acquires TME - Pleasure boat air conditioners and refrigeration systems, USA
2004
Dometic acquires TUS, Germany
Dometic acquires Polar Bay, USA
Dometic acquires Oyster, Spain
2006
Dometic acquires Eskimo Ice (and Icebonics), USA
2007
Dometic acquires SMEV, Italy
Dometic acquires WAECO, Germany
2011
Dometic acquires DG Line Group, Russia
Dometic was taken over by funds administrated by EQT and Partners
2013
Dometic acquires Livos Technologies
2014
Dometic acquires the Prostor, RV awning business from Brustor NV, Belgium
Dometic acquires Atwood Mobile Products LLC, USA
2015
Dometic is listed on Nasdaq Stockholm
Dometic divests its Medical business to Navis Capital Partners
2016
Dometic acquires IPV, a German-based provider of coolers and other outdoor products
Dometic divests the seating and chassis component business of Atwood
2017
Dometic acquires Oceanair, UK
Dometic acquires SeaStar Solutions, North America
2018
Dometic acquires Kampa, UK
2021
Dometic acquires Twin Eagles, North America
Dometic acquires Valterra Products, LLC, North America
Dometic acquires Enerdrive, Australia
Dometic acquires Front Runner Vehicle Outfitters, South Africa
Dometic acquires Zamp Solar, North America
Dometic acquires Büttner Elektroniks, Germany
Dometic acquires Igloo, North America
Dometic acquires Cadac International
Dometic acquires NDS Energy, Italy
2022
Dometic acquires Treeline Capital LLC